Cana Training Centre for Women
Women being born in those particular countries are said to be the only ones able to really enhance poor developing countries. Young girls go to primary school but have often problems to finish it because of family duties and the reason that education is mainly reserved to boys.
The project's origin and development
The Cana Training Centre for Women opened its doors in 2005 and focuses on offering girls and young women a possibility of finishing their education being really useful to them in their family lives. At the same time, the Centre aims at training and preparing them to some form of economic activity.
The education involves a 3-year cycle and comprises classes of sewing, knitting (both manually and machine-assisted one), cooking, hygiene, care for children or even elementary economic principles for an every-day life and a small profit-making activity. The classes take place from Monday to Friday and they are attended by 30 – 40 women every year.
The school year starts in the mid-September and finishes at the end of June. The training is completed by exams chaired by a committee of teachers and pedagogical specialists.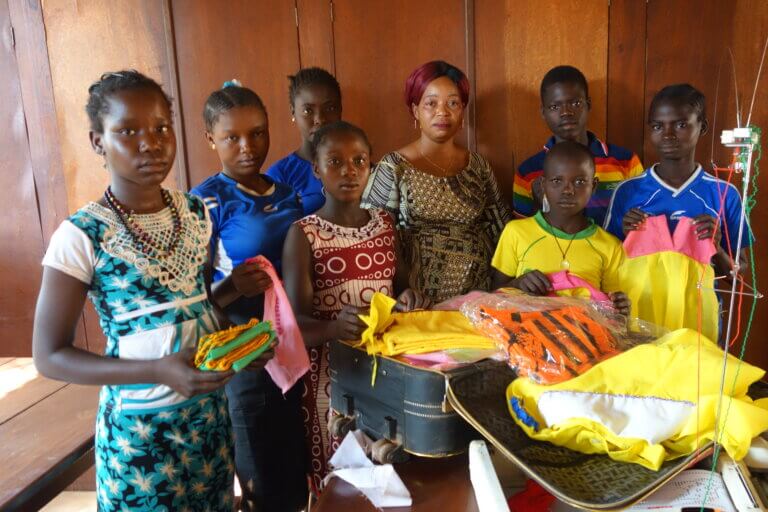 The project's objectives
The project's objective is to give an opportunity to girls and young women to live their family lives in a dignified way, to become competent to take care of their own household and get some economic independence.
Annual budget of the Cana Centre:
| | |
| --- | --- |
| Teachers' salaries (10 x 170 €) | 1 200 € |
| Purchase of materials: kitchen |   200 € |
| Purchase of materials: sewing |   300 € |
| Purchase of materials: knitting |   300 € |
| School fees (15 EUR x 30 participants) |  450 € |
In 2023, the project is co-founded by SIRIRI with EUR 1000.
How can you also help?
You can also contribute, making any donation to the current account No. 666646/5500, giving, for example, €60 to pay the costs for one participant's per-year course.